Newhouse School To Name New Studios After Legendary Dick Clark
Lead in text:
The Newhouse school announced plans to rename its newly renovated studios after legendary icon and alumnus Dick Clark '51.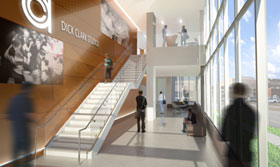 The Newhouse School today revealed plans to name its renovated studio facilities Dick Clark Studios in honor of legendary entertainer and alumnus Dick Clark '51. The announcement was made by Clark's widow, Kari Clark, at the school's annual Mirror Awards ceremony honoring excellence in media industry reporting.